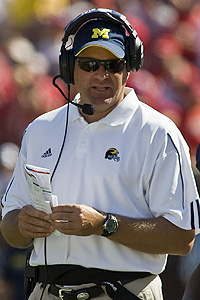 Rich Rodriguez is probably most on the hot seat of any coach in the entire country this season. Posting just an 8-16 record has not helped him, especially noting he is just 3-13 in the Big Ten and 1-5 against rivals (0-2 vs MSU and OSU, 1-1 vs ND). Unless Michigan has a solid season it will be hard to imagine a fourth year for Rich Rod. Here are some goals I believe Michigan needs to accomplish this season if Rich Rod wants to please the Michigan faithful and keep his job:
1. Get to a middle-tier bowl game.
This one is pretty simple. After Lloyd Carr's final season in 2007 Michigan owned college football's longest bowl appearance streak. The streak ended in 2008 after a 3-9 season and now Michigan's bowl-less streak sits at two after a fruitless 2009 campaign. Just six wins would get Michigan into a lower-tier bowl but I honestly don't think that the Little Caesar's Pizza Bowl is enough to save Rich Rod's job. It would take at least a 7-5 season to get to a modest bowl and that's where Rich Rod needs to get.
2. Beat Michigan State.
The battle for the state is normally a football game that the Maize and Blue win but not since Rich Rod came to town. An extra painful loss at Spartan Stadium last year was the start of a tailspin that saw Michigan lose seven of their last eight games to ruin an outstanding 4-0 start. This year the Wolverines have Sparty at home and another loss to Michigan State might just see Rich Rod chased out of town even earlier than expected. It's time. If Rich Rod wants to keep his job his team must beat the Spartans to claim the state.
3. Finish the season strong.

In 2008 after an average 2-2 start the Wolverines plummeted, dropping 7 of their final 8 games to finish the season 3-9. A similar thing happened in 2009, just worse as a 4-0 Michigan team quickly lost steam and finished 5-7, their only win coming against a team that was barely in Division I. For Rich Rodriguez to keep his job it will be important to gain some steam early but far more important to finish the season strong, something his Michigan teams have been unable to do.
The opportunity is there, with November bringing a tilt at Purdue and then against Illinois at the Big House, two extremely winnable games. November 20th is an outstanding chance at home against Wisconsin where the Wolverines could really build momentum into the Ohio State game the next week. Michigan has a great chance to finish strong, they just need to take advantage of it.
I truly believe that all three of these goals are extremely attainable for this Michigan team, but it will still be a challenge. My predictions will come later, but it certainly will not be impossible for Michigan to save their coach's job.